Ftarri / Hitorri
Taku Sugimoto / Minami Saeki
Songs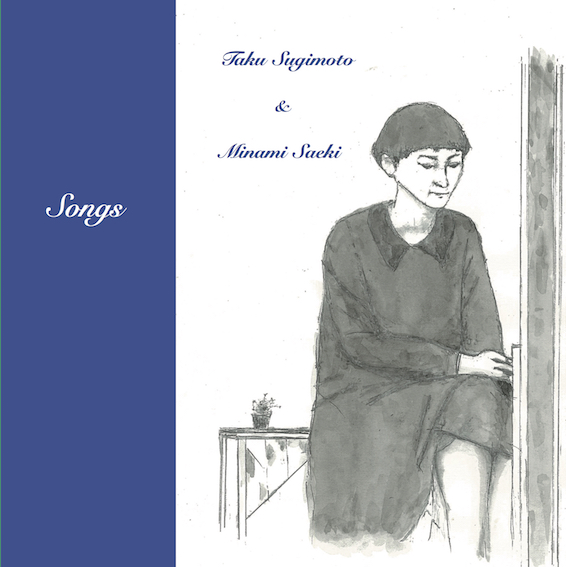 2-CD set
ftarri-982
Limited edition of 300
Out on November 11, 2018
Purchase price in Japan: 2,500 yen (tax not included)
(For purchase outside of Japan, prices vary.)
---
Disc 1
X (1:31)
solo for the E string of guitar / 1 (4:16)
IX (1:51)
6 (1:17)
k (3:56)
d (1:43)
4.2 (2:40)
Librairie HumuS, Lausanne, Switzerland, April 12, 2018


i (3:01)
j (1:00)
busy people (3:18)
Leeds Industrial Museum, Leeds, UK, March 31, 2018


1 (1:50)
e (4:23)
2 (1:12)
VIII (0:53)
3 (1:11)
Ftarri, Tokyo, Japan, September 28, 2017


II (2:41)
no supplies, Brussels, Belgium, October 13, 2017


2 (1:12)
Street in Basel, Switzerland, October 11, 2017


5 (0:42)
Chez Necoco et Cie, Die, France, April 8, 2018


V (words by Kamenosuke Ogata) (0:44)
IX (3:13)
g (6:36)
VII (1:54)
Les 26 Chaises, Paris, France, October 11, 2017
Disc 2
3 (4:13)
4 (3:10)
III (1:50)
VI (0:45)
g (4:40)
Passive/Aggressive, Copenhagen, Denmark, October 20, 2017


solo for the E string of guitar (3:15)
Plateforme Intermédia (La Fabrique), Nantes, France, April 14, 2018


e (4:30)
g (5:42)
Hietsun Paviljongin Ateljé, Helsinki, Finland, October 23, 2017


I (3:01)
l'An Vert, Liège, Belgium, October 12, 2017


VIII (0:32)
Street in Basel, Switzerland, October 11, 2017


1 (2:57)
Sonoscopia, Porto, Portugal, April 18, 2018


5 (1:38)
4 (3:20)
i (3:53)
j (1:08)
e (2:34)
h (12:34)
X (1:20)
gr'Ambacht, Mechelen, Belgium, April 21, 2018

mp3 excerpt: disc 1, track 3
mp3 excerpt: disc 1, track 8
mp3 excerpt: disc 1, track 13
mp3 excerpt: disc 1, track 21
mp3 excerpt: disc 2, track 2
mp3 excerpt: disc 2, track 9
mp3 excerpt: disc 2, track 12
mp3 excerpt: disc 2, track 17
Taku Sugimoto: guitar
Minami Saeki: voice

Guests
Léo Dupleix: computer, objects, sine-tones (Disc 1-16, 21, 22; Disc 2-9)
Lauri Hyvärinen: guitar (Disc 2-7, 8)
Takashi Masubuchi: guitar (Disc 1-11, 12, 13, 15)
Wakana Ikeda: flute (Disc 1-11, 13, 15)
Words by Minami Saeki
Compositions by Taku Sugimoto except Disc 1-10, by Minami Saeki
Recorded by Taku Sugimoto
Edited and mastered by Hiroyuki Ura
Artwork by Taku Sugimoto (cover) and Mario Sarramian (discs)
Photo by Luke Lund
Design by Cathy Fishman
---
The concept of Songs, the duo project of guitarist Taku Sugimoto and vocalist Minami Saeki, came about in the second half of 2016. By that December they had already made recordings of their music, and the following February they released their debut album, Songs (CD), on Sugimoto's label, slubmusic. Since then, the duo has had an active performance schedule in Japan and overseas, including European tours in 2017 and 2018. Now they have released their second album, the 2-CD set Songs.

Most of the tracks are short songs between one and four minutes long. All 40 songs (22 on CD 1 and 18 on CD 2) were recorded in Japan and Europe in 2017 and 2018. Lyrics are by Saeki, and compositions are by Sugimoto (except for one song composed by Saeki). Some songs were performed with guest musicians Takashi Masabuchi (guitar), Wakana Ikeda (flute), French musician Léo Dupleix (computer, objects, sine-tones), and Finnish musician Lauri Hyvärinen (guitar).

The basic format consists of extremely short, simple songs performed slowly and quietly, with few sounds, using vocals and guitar only. But if you listen carefully, you'll hear within the simplicity a mysteriously well thought out organization. Both extremely unique and abundantly charming, this is a song album that makes you feel as if you could listen forever.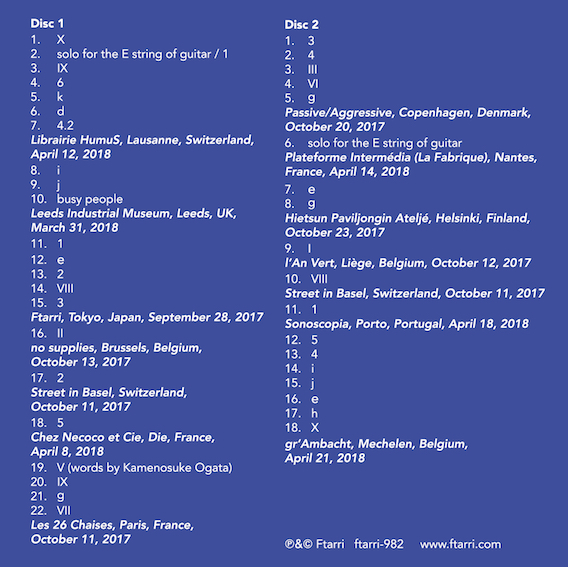 ---
Last updated: November 8, 2018
---