Ftarri / Hitorri
Taku Sugimoto / Stefan Thut
Taku Sugimoto / Stefan Thut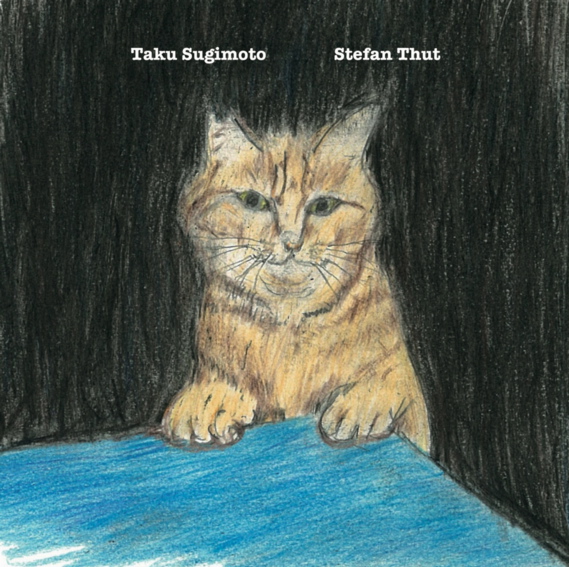 CD
ftarri-984
Limited edition of 200
Out on May 27, 2018
Purchase price in Japan: 1,500 yen (tax not included)
(For purchase outside of Japan, prices vary.)
---
Disc 1
"Ten Strings, 1-24" [2015] (Composed by Stefan Thut) -- "Mada" [2014] (Composed by Taku Sugimoto) (49:19)

mp3 excerpt: track 1
mp3 excerpt: track 2
Taku Sugimoto: guitar
Stefan Thut: cello

Recorded at oslo10, Basel, March 21, 2015
Edited and mixed by Stefan Thut
Artwork by Taku Sugimoto
Design by Cathy Fishman
---
Guitarist, composer and improviser Taku Sugimoto frequently performs overseas as well as in Japan. He's also a member of the Suidobashi Chamber Ensemble, which consists of five Japanese musicians. Stefan Thut is a Swiss cellist and composer. Both Sugimoto and Thut are known as unique performers and composers, and both have close ties with the contemporary classical Wandelweiser group. The two have a long association, performing together when Sugimoto visits Switzerland and when Thut comes to Japan.

Sugimoto and Thut performed in Geneva and Basel during Sugimoto's 2015 European tour. (They'd previous collaborated in larger formations, but this was their first duo performance.) The concert in Basel on March 21 is documented on this CD. The duo of Thut (cello) and Sugimoto (guitar) performed Thut's 2015 composition "Ten Strings, 1-24" (which includes the sound of rolling dice) and Sugimoto's 2014 composition "Mada." The two pieces (each about 25 minutes long) are presented here as a single 49-minute track instead of separate tracks. (Thut's piece is heard before Sugimoto's.) Each work displays the special character of these two highly individual composers, whose performances on this collaboration album are endlessly fascinating.
---
Liner notes
During Taku Sugimoto's tour in Europe in March 2015 he met composer and cellist Stefan Thut to perform together in Geneva and Basel. These concerts were the first appearances of the two musicians as a duo. For the occasion Thut wrote a score including chance operations to be implemented as part of the performance. The throwing of dice onto a suitcase and on the floor is about finding concrete partials on suggested strings. In Sugimoto's score "mada" the concreteness is manifest as a geometric shape with its own logic. A grouping of right-angled triangles provides two durations by either following the side or the base of the triangle. The two scores allow situations of two individuals being immersed into their own activities. They are still aware of the other's activity but do not know exactly of the other's knowing. Sounds happen as single events or at the same time and produce moments of utmost delicacy. Perhaps this recording may be heard as two performers conversing through separate focuses.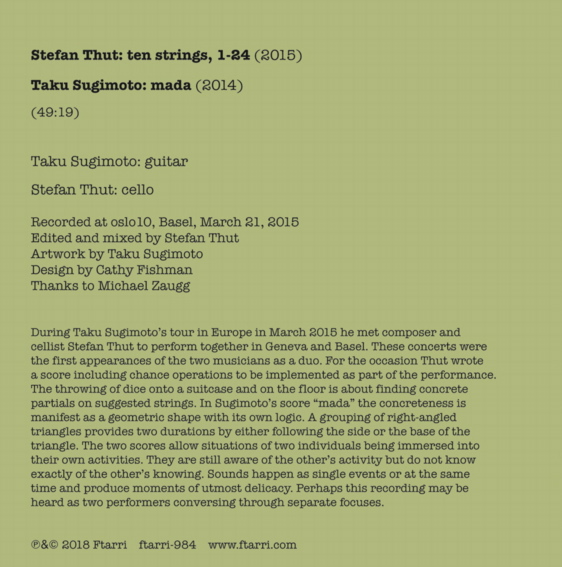 ---
Last updated: June 16, 2018
---