Ftarri / Hitorri
suzueri
Fata Morgana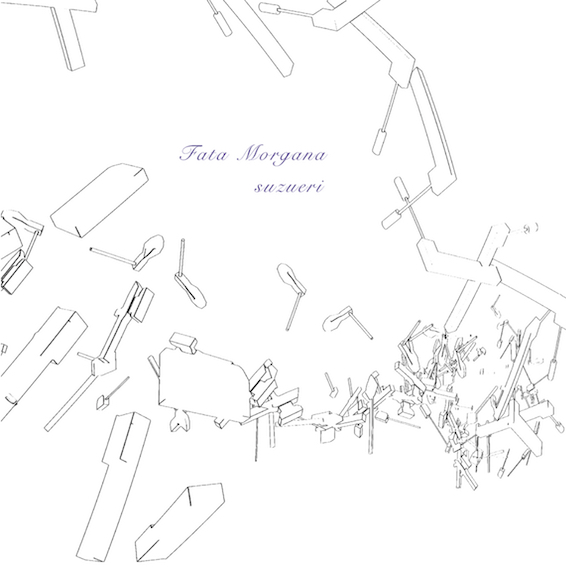 CD
hitorri-982
Limited edition of 200
Out on June 14, 2020
Purchase price in Japan: 1,500 yen (tax not included)
(For purchase outside of Japan, prices vary.)
---
(25:30)
suzueri: piano, gadgets
Improvisation by suzueri (Elico Suzuki) at Makoto Oshiro's studio, February 11, 2019
Recorded, mixed, and mastered by Makoto Oshiro
Cover graphics by Satoru Higa (Backspace Tokyo)
Cover photo and design by Elico Suzuki
Liner notes by Tomotaro Kaneko (translation by Elico Suzuki and Jonathan Kemp)
---
Sound artist/improviser suzueri started her musical activity in the 1990s, and her wide-ranging work since then has included concerts, exhibitions and installations. It was in the late 2000s that she began the style of performance heard on this album, combining upright piano and handmade devices. She continued to develop her concerts featuring this combination, and in the 2010s she earned widespread recognition and praise among improvised/experimental music fans for her unique "suzueri" style.

Three CDs of suzueri's performances at Ftarri with upright piano and self-made devices have previously been released on the Ftarri label: Live at Ftarri (meenna-993), a 2013 concert by the trio of suzueri, Tetuzi Akiyama (guitar) and Makoto Oshiro (self-made instruments), plus a quartet by these three and British drummer Roger Turner; Ftarri de Solos (ftarri-887), pairing solos performed in 2017 by suzueri and Hong Kong sound artist Fiona Lee; and Duo (ftarri-886), a 2018 duo performance with Makoto Oshiro. While these three CDs are all live recordings, what might be called a "definitive" studio-recorded solo album by suzueri has now been released. Fata Morgana, made up of two tracks of 25-plus minutes each, was recorded in February 2019 by Makoto Oshiro (who has an established reputation as an engineer).

Various devices including a small electric fan, a motor and a radio are placed on, attached to or arranged near an upright piano whose upper and lower panels are removed and insides exposed. The devices themselves produce sounds; and when touched by these devices, the piano strings and keyboard emit sounds repetitively (every few seconds) or continuously. These myriad sounds overlap and become a united whole, and at the point when they fill the space like a foundational layer, suzueri strikes the keyboard with both hands, forcefully and persistently unleashing clusters of sounds. This album overflows with suzueri's magical appeal, which combines concentrated musical creativity with turbulence and disarray.

This CD's paper cover is another part of suzueri's creation. She designed the cover; created the layout of the four-sided jacket (with spine) and Japanese-English liner notes (by Tomotaro Kaneko, translated by suzueri and Jonathan Kemp) on A3 size cardboard; and made an order to a printer. After the paper covers were delivered in sheet form, she personally cut and assembled each one.

---
Last updated: July 3, 2020
---