Ftarri / Hitorri
Kazuo Imai
The Seasons Ill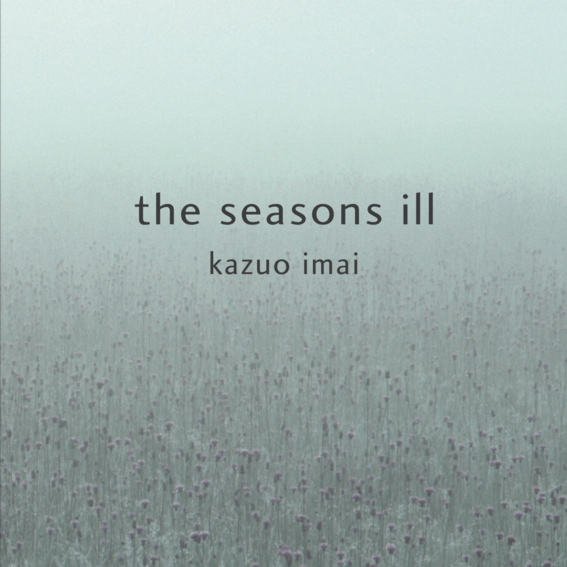 CD
hitorri-989
Limited edition of 300
Out on April 16, 2017
Purchase price in Japan: 1,500 yen (tax not included)
(For purchase outside of Japan, prices vary.)
---
Delay 160925 (26:28)
Kazuo Imai: electric guitar

Recorded live at Soup, Tokyo, September 25, 2016 (1); and at Earthdom, Tokyo, April 7, 2016 (2)
Recorded by Shingo Matsuoka
Mastered by Takeshi Yoshida
Design by Kazuo Imai
Produced by Kazuo Imai and Shingo Matsuoka
Includes liner notes by Shingo Matsuoka in Japanese and English (translation by Keiko Higuchi)
---
Guitarist Kazuo Imai (born in 1955) studied with Masayuki Takayanagi and Takehisa Kosugi, and has been performing in Japan and overseas since the 1970s. While focusing on improvised music, his performance activity ranges widely, from free jazz to contemporary classical to noise music. On an irregular basis, he continues to perform super-high-volume improvised guitar solos. This CD consists of two superb pieces, performed in concerts in April and September 2016, which could be called definitive performances in this genre. (Each is over 25 minutes long.) Dazzling whirlpools of multilayered sound surge in raging streams in this truly overwhelming music. But this is no mere barrage of roaring sound. The transformations and variations in these well-structured 25-minute-plus performances truly demonstrate Imai's greatness as an improviser.
---
Liner notes
I've been wishing there was an album of Kazuo Imai's electric guitar at full volume ever since I heard him playing with Nobuyoshi Ino and Yoshiaki Fujikawa at Shinjuku Pit Inn on July 11, 2012. (The 7th track of his first solo album, How Will We Change?, released by PSF, includes this kind of playing, although it's only 13 minutes. One can also hear his loud set on "Kazuo Imai & Incapacitants," a bonus CD from Incapacitants' box set Alchemy Box Is Stupid, though it's not his solo.) On top of that, there haven't been many of his shows with electric guitar anyway.

However, in May 2015 he started playing electric guitar solo concerts at Earthdom in Shin-Okubo once every few months. (His last show of this kind dated back to December 2013.) Therefore, I attempted to record his concert on December 2 of that year. But due to the vibration from his high-volume performance, the HDD of my recorder stopped and failed to record. I tried with 8 more shows after that and succeeded in recording 7 of them.

This album includes 2 of those 7 recordings. They are all great, so even if I were to choose the worst 2, they would still have been of satisfying quality. Also, even with those 7 recordings, I've realized that it is still not possible to capture all the aspects of Kazuo Imai as an improv guitarist. The more I recorded, the more I felt the bottomless dreadfulness of his amazing versatility as a musician.

As a result, it was not an easy task to select the tracks for the album. As mentioned above, the roaring sound stopped the HDD from recording due to the vibration from his full volume. In fact, the sound affected my hearing for a few days after each show. I would very much like people to listen to this CD at high enough volume that the speakers shake the floors and walls with his sound. He must be the only one in the world doing such high-volume improvised music with electric guitar. And this high-volume performance of his, I believe, shows the true worth of Imai's music.

Far And Wee, his performance on acoustic guitar released by PSF, is also very much one of a kind; one can hear the fat sound of his guitar amplified just as it is. It's as if the sound reflects and realizes his musical philosophy and aesthetic. Considering the fact that he has not been doing many shows of this kind and the difficulties in making such recordings successfully, as well as the high quality of his performances, I believe this album is truly precious. The recording, using one-point stereo and a KORG MR1000 portable recorder, is unlike multi-track recordings made in studios. It sounds very real, like a bootleg recording by an audience member, and I must say I really like how it turned out.

This release is a historic event in improvised music. It has been nearly 50 years since non-idiomatic improvisation made its first appearance, and it's hard to believe that improvised music with this degree of originality still exists. Imai's sound differs from that of Derek Bailey. (Without discussing volume and so on, Imai's sound has become an exploration of improvised guitar performance in a field different from Derek's. As Imai himself said, it analyzes Webern's music, which Derek listened to a great deal, but goes in a different direction from Derek's.) His sound also differs from that of his mentor, Masayuki Takayanagi, though high volume could be a point in common. It almost seems as if he has gone beyond his mentor. His left hand fingering, right hand picking, and use of props and so on are all visually unique, too (and make me wish I had visual documents, like DVDs of his live shows).

If you have not seen his high-volume electric guitar solo in concert, I highly recommend that you do--if only to find out how loud you need to play this CD on your sound system to make it close to the live sound.
Shingo Matsuoka
Translation by Keiko Higuchi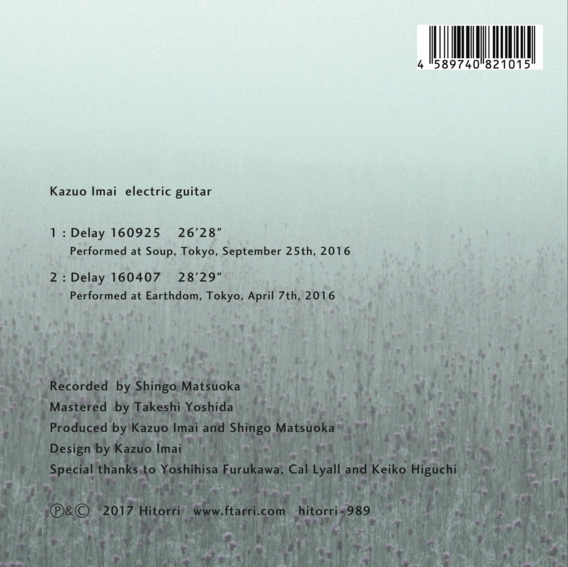 ---
Last updated: March 30, 2017
---