Ftarri / Meenna
Ftarri Third Anniversary Vol. 1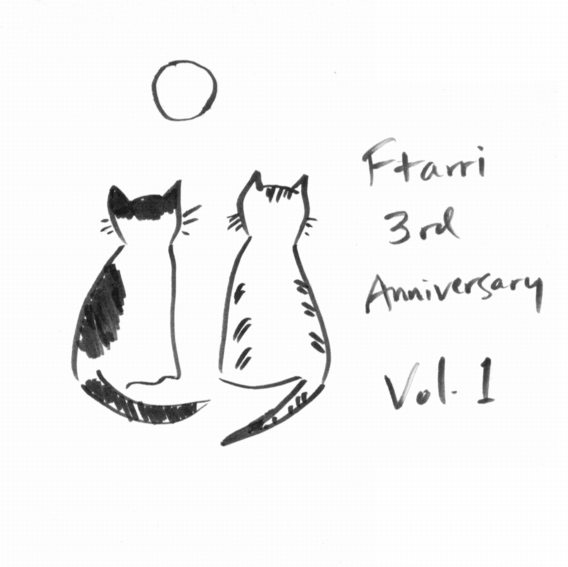 CD-R
meenna-888
Limited edition of 80
Out on July 4, 2015
SOLD OUT!
---
Yoko Ikeda

Allegro moderato (3:53)
Andante semplice (4:09)
Allegretto com brio (0:43)
Yoko Ikeda: viola
Recorded by Ryo Hisatsune at Studiozot, June 9, 2015

Léo Dupleix

Track 1 (5:54)
Track 5 (6:01)
Léo Dupleix: electronics
Recorded home in Tokyo, May 17 and 18, 2015
Mastered by Léo Dupleix
No overdub, no edit

Hikaru Yamada/Hayato Kurosawa

(15:28)
Hikaru Yamada: alto saxophone, microphone
Hayato Kurosawa: guitar
Recorded live at Ftarri, Tokyo, March 1, 2015

ffrond

Exit a5 (6:06)
Exit b6 (4:55)
Exit c7 (8:10)
Yoshinori Shiraishi: drums, percussion
Shiro Ochiai: electric piano
Tyler Eaton: double bass
Recorded at La Grotte, March 27, 2015
Mixed by Tyler Eaton

mp3 excerpt: track 1
mp3 excerpt: track 5
mp3 excerpt: track 6
mp3 excerpt: track 7
Artwork and design by Cathy Fishman
---
The Ftarri store/live performance space in Suidobashi, Tokyo, celebrated its 3rd anniversary in August 2015. To mark this occasion, we held six 3rd anniversary concerts in July and August. For each concert we produced a CD-R (each with different music) which was presented as a gift to audience members. Each disc includes recordings by 4 or 5 musicians or groups. Almost all of the tracks are previously unreleased, and many were recorded specifically for these CD-Rs.

Ftarri 3rd Anniversary Vol. 1, which was given to audience members at the 1st concert on July 4, consists of tracks by Yoko Ikeda, Léo Dupleix, Hikaru Yamada/Hayato Kurosawa, and ffrond. All of the musicians except Kurosawa appeared in this concert. Kurosawa appeared in the 2nd concert, held on July 19.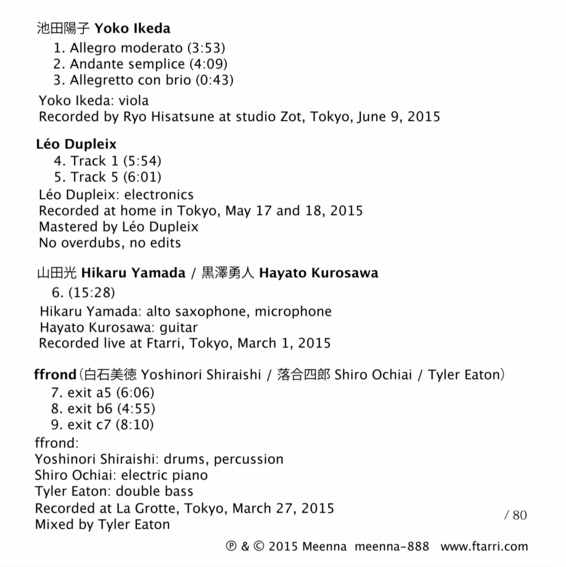 ---
Last updated: August 31, 2015
---