Ftarri / Meenna
Magnus Granberg
How Lonely Sits the City? (version for quartet)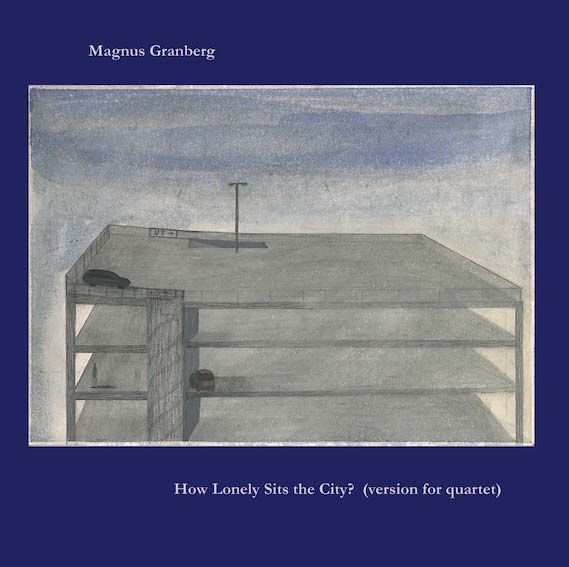 CD
meenna-958
Limited edition of 250
Out on September 4, 2022
Ftarri Bandcamp
---
How Lonely Sits the City? (version for quartet) [54:41]
mp3 excerpt: track 1
Composed by Magnus Granberg
Eva Lindal: violin
Leo Svensson Sander: cello
Stina Hellberg Agback: harp
Magnus Granberg: prepared piano
Recorded by Niclas Lindström at Park Studios, Stockholm, October 8, 2020
Mixed and mastered by Anders Dahl
Cover art: "The Car Park" by Magnus Gramén
Cover design by Cathy Fishman
---
Composer/improviser Magnus Granberg, who lives in Stockholm, has presented outstanding composed works through Skogen, the ensemble he directs, and experimental music ensembles, projects and labels from around the world. He has released three CDs on the Meenna label: Whose Words? (meenna-983 / 2017), documenting a trio improvisation performance with Tetuzi Akiyama and Henrik Olsson; and two albums titled Come Down to Earth Where Sorrow Dwelleth (meenna-970, meenna-966 / 2020), each containing a different version, performed by a different ensemble, of the same composition by Granberg.

When Granberg accepted an invitation he received in September 2019 to participate in a project planned by Swedish artists including Leo Svensson Sander (cello), Stina Hellberg Agback (harp) and Eva Lindal (violin), it was the first step on the road to creating the work recorded on this CD. Granberg wrote the composition in the midst of the Covid-19 pandemic that began the following year, completing the quartet version, "How Lonely Sits the City?" (54 minutes). In October 2020, Sander, Agback, Lindal and Granberg (on prepared piano) recorded the work, and that recording is presented on this album.

Granberg subsequently prepared the extended version of "How Lonely Sits the City?" for his own group, Skogen. This was recorded by a seven-member Skogen ensemble, and released on the UK label Another Timbre in February 2022.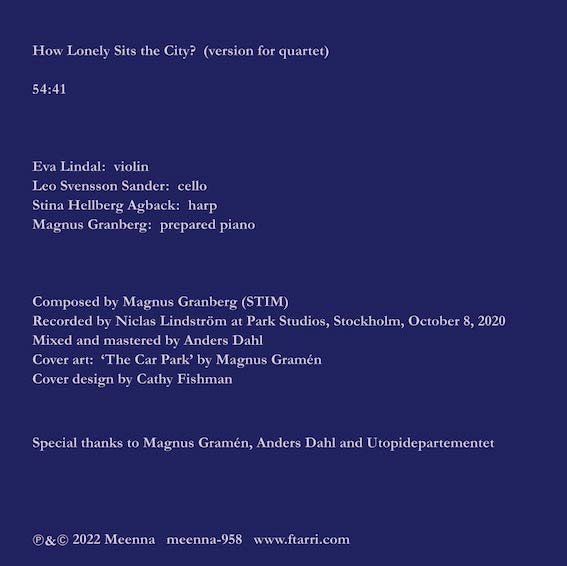 ---
Last updated: September 2, 2022
---