Ftarri / Meenna
Yan Jun / Jean-Luc Guionnet / Matija Schellander / Seijiro Murayama
Blue Mistake, Red Mistake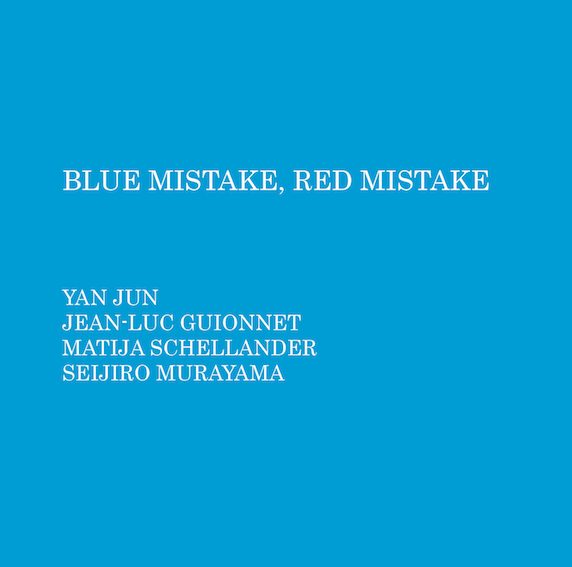 CD
meenna-971
Limited edition of 300
Out on June 14, 2020
Purchase price in Japan: 1,500 yen (tax not included)
(For purchase outside of Japan, prices vary.)
---
Blue Mistake, Red Mistake (43:53)

mp3 excerpt: track 1
Yan Jun: voice
Jean-Luc Guionnet: alto saxophone
Matija Schellander: contrabass
Seijiro Murayama: snare drum, voice
Recorded by Jean-Luc Guionnet at galerija ŠKUC, Ljubljana, Slovenia, March 16, 2017
Mastered by Kassian Troyer, Berlin, 2019
Special thanks to Karin Girkinger, Hans Oberlechner, Špela Trost, Tomaž Grom, Dieter Kovacic, Noid, Maru, Joško Pajer
Supported by SKE Fonds
---
Blue Mistake, Red Mistake is the project of four musicians: Matija Schellander, a contrabass player living in Vienna; Jean-Luc Guionnet, a sax player based Paris; Beijing-based Yan Jun, who was staying in Berlin on a residency when this album was recorded; and percussionist Seijiro Murayama, who at the time of the recording had been living in Japan for several years (but before then had lived for a long time in France and now resides in Paris). The four got together and launched the project in March 2017, when Schellander was carrying out a residency at the jazz/improvised music festival Artacts in St. Johann in Tirol, Austria. They gave four performances over a week-long period, starting at the Artacts festival and then in Graz (Austria), Vienna and Ljubljana (Slovenia).

This album's one track (about 44 minutes) is the performance in Ljubljana. Yan Jun, who usually plays electronics, performed with his voice only. Murayama used snare drum and voice. The interior of the venue, Galerija ŠKUC, was like a long, narrow hallway which had several adjoining rooms without doors in between (as if the walls had been taken out). For this project it had been agreed that, in each of the concerts, three of the musicians would play close together and one would be far away. In this concert, Schellander started performing quite far back, at a distance from the others, and during the concert he moved to different rooms.

The overall mood of the performance is minimalist, with a limited number of sounds, but occasionally there are intense percussion sounds. Together with a cool but strong feeling of tension, the sonic perspective and dynamism create an amazing effect which, in combination with the excellent recording quality, result in a truly superb album.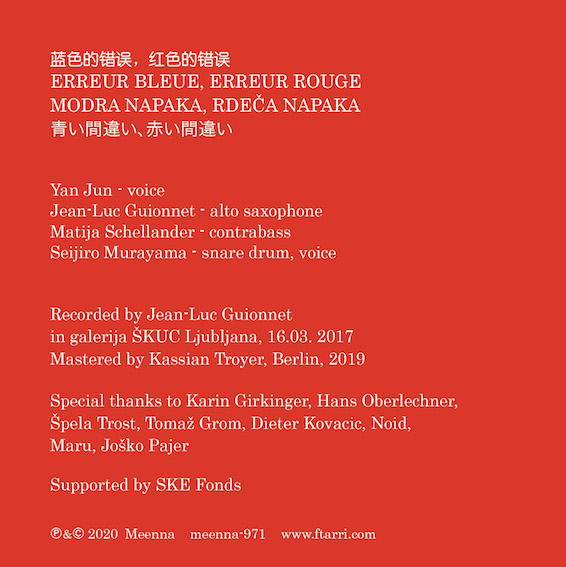 ---
Last updated: June 20, 2020
---