Ftarri / Meenna
Heather Frasch / Ryoko Akama
Linking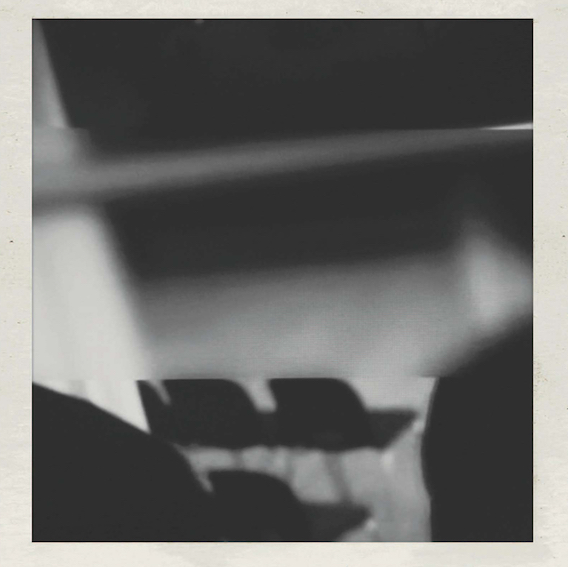 CD
meenna-972
Limited edition of 300
Out on May 31, 2020
Purchase price in Japan: 1,500 yen (tax not included)
(For purchase outside of Japan, prices vary.)
---
A Moment in My Day (Take 1) (17:30)
For Heather's Day (40:50)
A Moment in My Day (take 3) (21:30)

mp3 excerpt: track 1
mp3 excerpt: track 2
mp3 excerpt: track 3
A Moment in My Day (1, 3)
Composition by Heather Frasch
Brice Catherin: cello, objects
Eleanor Cully: voice, objects
Ryoko Akama: organ, objects
Recorded in Almondbury, UK
For Heather's Day (2)
Composition by Ryoko Akama
Heather Frasch: field recordings, objects, erelctronics
Recorded in Charlottesville, U.S.A.
Linking, photography, and mastering by Bruno Duplant
---
Heather Frasch is a composer/musician living in the U.S. city of Charlottesville, Virginia. Ryoko Akama is a composer/musician living in Huddersfield, UK. Together they run Mumei Publishing, which issues mumei, a journal exploring the relationship between text and sound. French musician Bruno Duplant asked Frasch and Akama to create a CD, and the result was this three-track album. (Duplant served as producer throughout the project, but was not involved in the compositions or performances.)

In 2018, Frasch and Akama each composed a work using a written text; then they exchanged the compositions and recorded them separately. Akama's composition "For Heather's Day" was recorded and edited in several sessions by Frasch using field recordings, objects and electronics to create a work of 40 minutes in length. Frasch's composition "A Moment in My Day" was recorded by Akama with invited musicians Brice Catherin (cello, objects) and Eleanor Cully (voice, objects) as well as her own sounds (organ, objects), resulting in the creation of four different takes. Takes 1 and 3 (each about 20 minutes) are heard on this album.

On this superb CD, composer/performers Frasch and Akama draw out all the distinctiveness of text scores, both in their compositions and in their interpretation/realization of the works.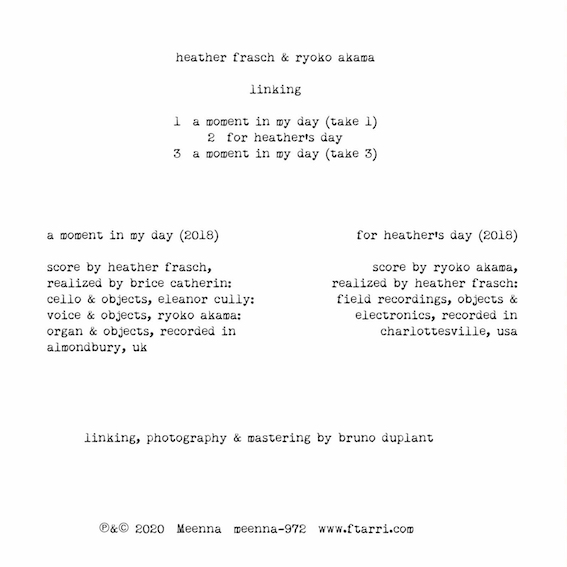 ---
Last updated: May 9, 2020
---