Ftarri / Meenna
Hiroyuki Ura / Kenichi Kanazawa / Satoko Inoue
Scores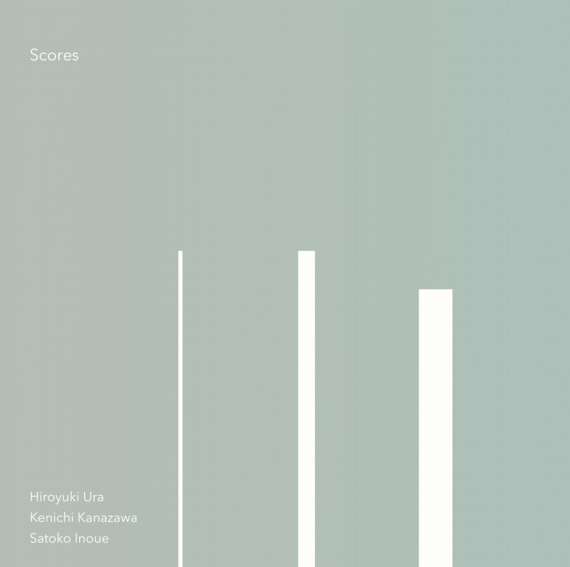 CD
meenna-985
Limited edition of 500
Out on February 19, 2017
Purchase price in Japan: 1,500 yen (tax not included)
(For purchase outside of Japan, prices vary.)
---
Scores 1200 (60:00)

mp3 excerpt: track 1 (part 1)
mp3 excerpt: track 1 (part 2)
mp3 excerpt: track 1 (part 3)
Satoko Inoue: piano
Kenichi Kanazawa: steel square tubes, hammer
Hiroyuki Ura: VSS-30 sampling keyboard, drums

Originally composed by Hiroyuki Ura for Kenichi Kanazawa's sculptural work "Scores" on the occasion of its inclusion in an exhibition at The Museum of Modern Art, Gunma

Recorded live by Hiroyuki Ura at The Museum of Modern Art, Gunma, in Takasaki, Gunma Prefecture, October 1, 2016
Mastered by Taku Unami
Artwork by Kenichi Kanazawa
Design by Mayumi Go
---
This CD consists of the live recording of "Scores 1200" (60 minutes), a performance by sculptor Kenichi Kanazawa and musician Hiroyuki Ura, together with pianist Satoko Inoue. The performance took place on October 1, 2016, at The Museum of Modern Art, Gunma, as an event related to that museum's exhibition "Art and Music" (September-November 2016).

"Scores" is a project which explores the integration of sculpture and music. It was launched in 2015 by Kenichi Kanazawa in the context of his exchanges with Hiroyuki Ura and other musicians. In this project, Kanazawa's sculptures are vertical aluminum square tubes with numerous notches carved into their surfaces. He diagrams the notches' positions, widths and depths horizontally (below, top); then Ura applies fixed rules to the diagram and turns it into a score (below, bottom) to create a composition. The performance on this CD took place within an exhibition of ten 1,200-mm square tubes. Accordingly, the composition consists of ten parts of 1,200 measures each.

In the performance, Kanazawa struck square tubes with a hammer as Inoue played the piano, and Ura produced sound on a keyboard (as well as drums in the second half). Throughout, phrases that become familiar to the ear are quietly repeated in unhurried tempos. The sound, which reverberates comfortably in the museum, is tinged with warmth and touches the emotions. In this superb work, the spirit of experimentation which resulted in the composition, and the unusual nature of the composition and performance, are connected in a sophisticated way.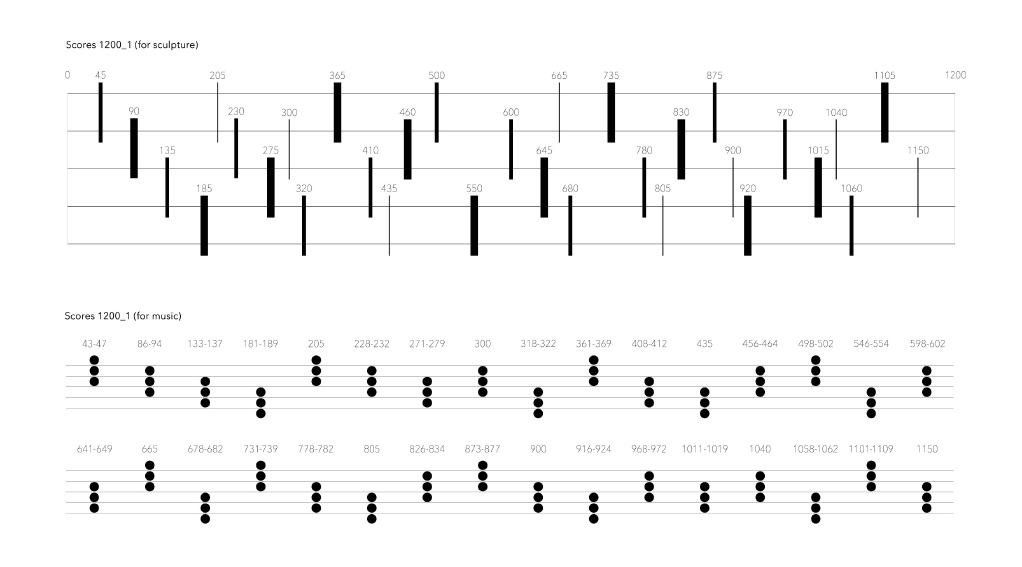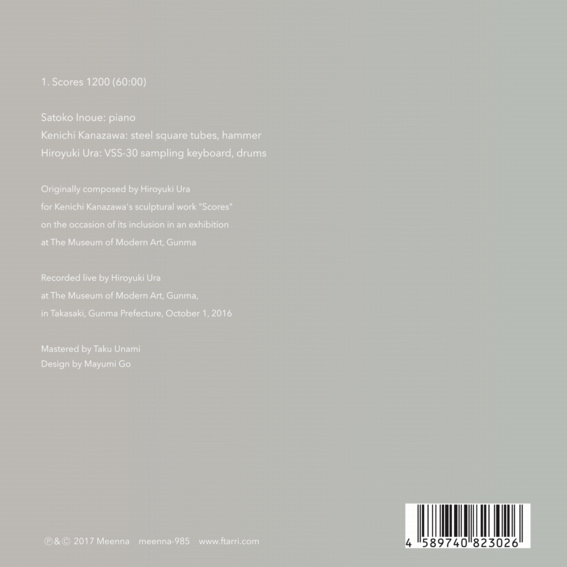 ---
Last updated: Janaury 25, 2017
---