Ftarri / Meenna
Ryoko Akama / Ko Ishikawa / Bruno Duplant
2 Compositions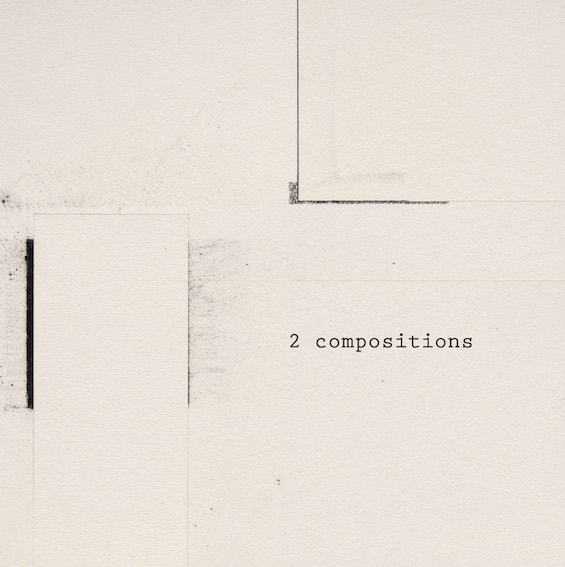 CD
meenna-990
Limited edition of 500
Out on July 31, 2016
Purchase price in Japan: 1,500 yen (tax not included)
(For purchase outside of Japan, prices vary.)
---
a proposal - four (27:00)
i.take (27:00)

mp3 excerpt: track 1
mp3 excerpt: track 2
Ryoko Akama: electronoics
Ko Ishikawa: sho
Bruno Duplant: double bass, electronics
Compositions by Ryoko Akama
Mixed by Bruno Duplant
Mastered by Taku Unami
Drawings by Arjan Janssen
Design by Cathy Fishman
---
I have collaborated with Bruno Duplant on various projects over the last three years since I participated in Presque Rien (Rhizome-s) in 2013. Only a few people have met actual Bruno, and I have only worked with him via virtual exchanges. It was when I was feeling the limitation to pursue compositional projects only in the net that the idea of this collaboration was brought up. I immediately reacted with hesitation but Ko emailed me; "It would be very interesting to record materials like this. It is as if performing together in the fictional space in response to the score."
I created these scores, visualising this fictional space.
"proposal_four" is a series of compositions. There is now up to _seven. proposal aims to apprehend a possibility of performance in terms of proposal, refusal and acceptance. It was influenced by the visual artist Sol Lewitt who perceived his work as a "structure" and studied a variety of order, geometry and pattern, enjoying the significance of a continuity and possibility of shape constituting. Each score is written to a specific artist and contains different text or graphic materials that propose unique instructions.

"i.take" was written for the trio. I am interested in Japanese traditional music and have studied Nagauta to some extent. I wanted to create a piece inspired by the characteristics of sho. A dialogue between each microtonal sound develops, and sine tones and acoustic instruments entangle slowly and elegantly in this actualisation. The particular result has made me assure that a text/graphic score is not a "concept" but an ingredient that constructs a performance.

It was July in 2014 that we started. This is a grateful publication opportunity after two years of time. It should perhaps be called as a quartet now including Janssen who drew us a marvellous cover artwork.
Ryoko Akama
---
Ryoko Akama is a sound artist/composer living in the UK. Her prolific activity in recent years, not only in the UK but throughout the world, has been remarkable. Over the past several years she has released a succession of recordings of her compositions and performances. Ko Ishikawa plays the sho, an instrument used in gagaku, traditional Japanese court music. While active in the world of gagaku, the incomparable Ishikawa has also established a firm foothold on the improvised music scene. Bruno Duplant is a French musician who has become widely known, particularly since 2010, for his unique approach to music. Akama and Duplant have been collaborating since 2013 and have released several CDs and CD-Rs. In the album 2 Compositions, the newest product of their collaboration--this time with Ishikawa--the three artists perform Akama's compositions using scores consisting of text and graphics. Akama (electronics), Ishikawa (sho) and Duplant (contrabass and electronics) bring out all the beauty of Akama's succinct and elegant compositions generously incorporating "space."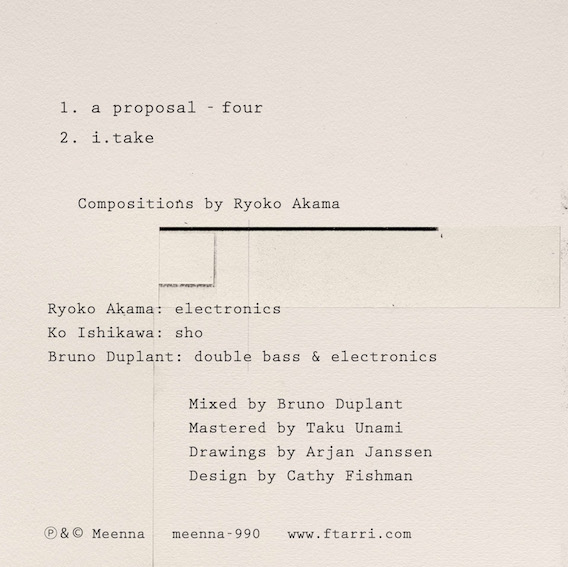 ---
Last updated: July 29, 2016
---